Hire includes - Weekly watering, feeding, cleaning leaves, pruning and replacement of plants to ensure an exceptional standard at all times. owner operated, friendly & always discreet,
We are happy to meet your plant requirements at any time.

PROJECTING YOUR IMAGE
First impressions make all the difference. The natural elegance of plants lend an aura of welcome and professionalism.
Any Corporate environment graced with well-chosen, professionally maintained plants will
enhance your Company's image and show you care about your staff and their wellbeing.

Plants release negative ions, making everyone feel good. This in turn helps improve staff morale and productivity.
Plants also significantly reduce indoor pollutants contributing to a cleaner greener office environment.
| | | |
| --- | --- | --- |
| | Placing a plant within 1m of your desk will instantly give you 100% more job satisfaction | |
Welcome to Ambience Interior Foliage Design.
Superior suppliers of plants and containers
Our elegant planters and beautiful, lush, vibrant plants
will transform your work environment
Hire, Rent, Lease or Buy!
Enjoy our easy terms and conditions
– No Nasty Contracts!
To know that the tree is as vital as the sun is a wise understanding indeed.
Chinese proverb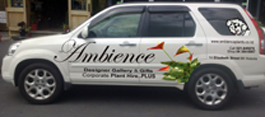 Nicola Byrne, Creative Director, ambience Wellington.
04 3888 989 or 021 845 979• e-mail: nic@ambienceplants.co.nz
Turn your place into a green space!